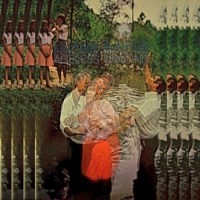 I'm not a huge Animal Collective fan. I'm not a hater; it's just that besides 2009's mind-melting 'My Girls' not much else in their vast catalogue has tickled my fancy ('Brothersport' and 'Banshee Beat' are classics – hugger). Strange that, as tepid as I am to Animal Collective, I would enjoy the music of Lexington, Kentucky's Estadio Olimpico to the degree I do.
Many of the sonic touchstones are similar. The heavy tribal percussion, the layers of wailing voices drenched in reverb, the jittery guitars are all cut from the same cloth, but Estadio Olimipico separates itself by it's overall listenability. Where Animal Collective leans toward the obtuse, Estadio Olimpico shows a keen sense of pop dynamism that make for a rewarding listen, even when culling from the same palate of sound.
Check out their bandcamp for last year's excellent 'Ageless Gracing' EP plus a new track from their forthcoming 'Wilderness Literature' EP. Both are yours for an email address.
Joseph Avary
Estadio Olimpico – A Hungry Home
More Info: Official
Buy Songs: Estadio Olimpico
Year: 2010